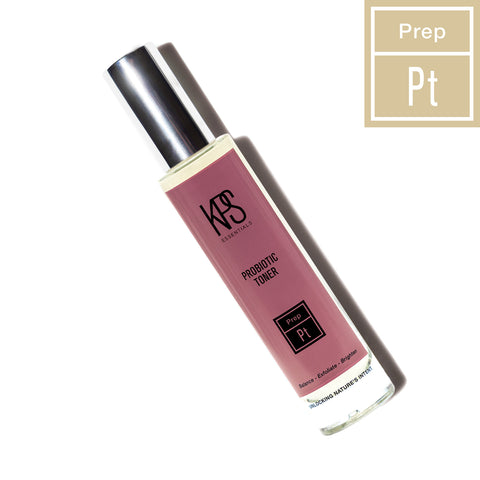 Probiotic Toner
Balancing toner for all skin types. 
Tighten pores, remove lingering dead skin cells, and ensure a perfectly balanced skin pH. 
Unlock fresh, balanced, smooth skin.
How To Use
Ingredients
The products and statements made about specific products on this website have not been evaluated by the United States Food and Drug Administration (FDA) and are not intended to diagnose, treat, cure, or prevent disease.

We stand behind the efficacy and performance of all our products. Your happiness is our top priority; if you decide our products are not the right fit for you, we'll refund your purchase within 60 days.
Our premium food-grade organic essential oils stimulate, soothe and revitalize the skin.
Our products are formulated with more bioavailable antioxidants than any other skincare on the market to nourish and revitalize your skin.

Our products are safe for cancer patients and for people with autoimmune diseases. We also offer essential-oil free options for people with extra sensitive skin.
Safe for Pregnancy & Children
We only use pure and natural ingredients. Our products are safe for use during pregnancy and for use on children.
Our products are loved and recommended by Doctors of Medicine, Doctors of Osteopathic Medicine, Chiropractors, Naturopaths, Plastic Surgeons and more!
What's inside the Bottle?
We utilize wild-foraged, regeneratively farmed, organic, and certified food-grade ingredients to deliver a higher nutritional value to your skin.
Strong Astringent, Decrease Puffiness, Anti-inflammatory, Decrease Water-Loss, Soothe Irritated Skin
Organic Apple Cider Vinegar
Natural Probiotics Promote Homeostatic Acidification, Balances Skin, Remove Dead Skin Cells with Natural Alpha Hydroxy Acid (AHA), Fade Age Spots
Detoxify Skin, Packed with Antioxidants, Tone & Tighten Skin, Antimicrobial, Antifungal