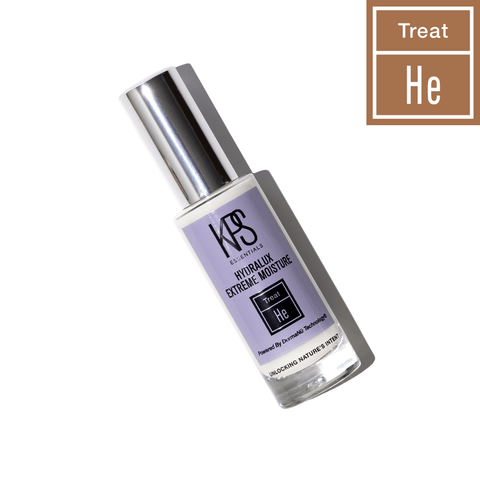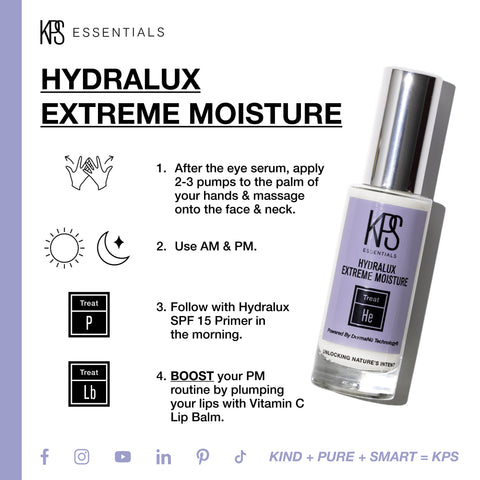 Hydralux Extreme Moisture
Intensely moisturizing face & body cream for dry or irritated skin.
Find yourself in a fresh field of flowers, knee-deep in nourishment and hydration. This beautifully lightweight moisturizer is packed with vital nutrients your skin desperately craves. By combining our DermaNū Technology with the planet's best ingredients, this moisturizer increases your skin's hydration by 185% reducing the visible signs of aging.
How To Use
Ingredients
The products and statements made about specific products on this website have not been evaluated by the United States Food and Drug Administration (FDA) and are not intended to diagnose, treat, cure, or prevent disease.
What's inside the Bottle?
These key ingredients are powerful botanicals packed with antioxidants & nutrients to nourish and empower your skin.
Antioxidant, Anti-inflammatory, Reduce Wrinkles
Antifungal, Uplifting Mood Enhancing Aromatherapy Benefits, Balance Skin, Moisture Retention, Anti-inflammatory, Tighten & Tone Skin
Balance Oil Production, Soothe Inflammation, Antibacterial, Aroma Induces Sense of Calm
Antiseptic, Anti-inflammatory, Soothe Skin, Age-Defying Properties, Antifungal, Balance Skin
Anti-inflammatory, Antioxidant Rich, Cleanse & Moisturize Skin, Soothe Eczema & Rosacea
Anti-inflammatory, Fight Free Radicals, Lighten Hyperpigmentation & Dark Spots