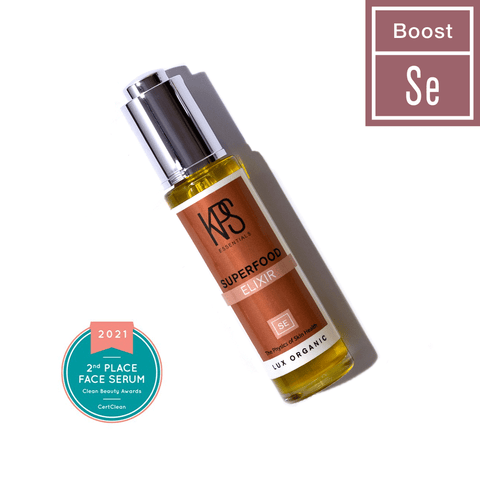 Superfood Elixir
Achieve radiant skin with a combination of potent antioxidants and nourishing nutrients.
Safe for: All skin types.

Ensures skin hydration and promotes a plump appearance

Improves your skin's elasticity, resulting in a firmer, youthful appearance

Promotes the natural growth of collagen for healthier skin

Enhances skin circulation for improved vitality

Maintains and fortifies your skin's protective barrier
How To Use
Ingredients
The products and statements made about specific products on this website have not been evaluated by the United States Food and Drug Administration (FDA) and are not intended to diagnose, treat, cure, or prevent disease.
What's In The Bottle?
These key ingredients are powerful botanicals packed with antioxidants & nutrients to nourish and empower your skin.
Rich in Magnesium, Manganese, Iron, and Zinc which are Essential Nutrients for Healthy Skin
Reduce Acne, Diminish Wrinkles, Soothes Skin, Balances Skin Tone
Anti-Bacterial, Anti-Microbial, Anti-Fungal, Increase Blood Circulation
Anti-bacterial, Anti-microbial, Anti-fungal, Increase Blood Circulation
Anti-Inflammatory, Fights Free Radicals, Lightens hyperpigmentation
Anti-Inflammatory, Antioxidant, Antibacterial