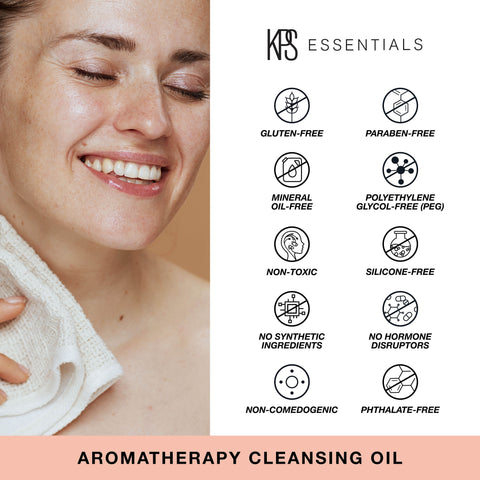 Aromatherapy Cleansing Oil
Your daily purifying aromatic cleansing oil. 

Saf for: All skin types
Removes makeup, toxins, and debris

Leaves your pores purified and clean

It provides hydration and plumps your skin 

It helps regulate and balance your skin's oil production

Calms and relieves irritated skin
How To Use
Natalie's Guru Guidance
Ingredients
The products and statements made about specific products on this website have not been evaluated by the United States Food and Drug Administration (FDA) and are not intended to diagnose, treat, cure, or prevent disease.
What's inside the Bottle?
We utilize wild-foraged, regeneratively farmed, organic, and certified food-grade ingredients to deliver a higher nutritional value to your skin.
Anti-inflammatory, Unclog & Detoxify Pores, Antioxidant Rich, Noncomedogenic
Antioxidant Rich, Contains Essential Omega Fatty Acids, Anti-inflammatory, Antifungal, Antibacterial, Noncomedogenic
Calm Inflammation, Antioxidant Rich, Noncomedogenic, Antibacterial, Rich in Vitamin A, D, E, & K
Antiseptic, Anti-inflammatory, Soothe Skin, Age-Defying Properties, Antifungal, Balance Skin
Antifungal, Uplifting Mood Enhancing Aromatherapy Benefits, Balance Skin, Moisture Retention, Anti-inflammatory, Tighten & Tone Skin
Boost Blood Circulation, Reduce Redness, Anti-inflammatory, Boost Vibrance, Aromatherapy Benefits Enhance Mood