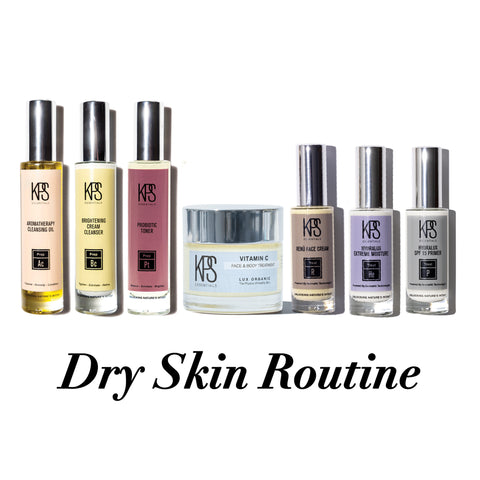 Dry Skin Routine
Our blend of organic and food-grade ingredients deeply moisturizes and nourishes, leaving your skin soft, smooth, and hydrated. Get proven results of 185% increased hydration and improved skin barrier function with the KPS Dry Skin Routine. 
Dry Skin Routine Includes:
Aromatherapy Cleansing Oil: 1.7 oz Retail Price: $38
Brightening Cream Cleanser: 1.7 oz Retail Price: $38
Probiotic Toner: 1.7 oz Retail Price: $38
Vitamin C Face & Body Mask: 2.3 oz Retail Price: $52
Renū Face Cream: 1.0 oz Retail Price: $111
Hydralux Extreme Moisture: 1.0 oz Retail Price: $69
Hydralux SPF 15 Primer: 1.0 oz Retail Price: $69
Total Retail Price: $415
Ingredients
The products and statements made about specific products on this website have not been evaluated by the United States Food and Drug Administration (FDA) and are not intended to diagnose, treat, cure, or prevent disease.

We stand behind the efficacy and performance of all our products. Your happiness is our top priority; if you decide our products are not the right fit for you, we'll refund your purchase within 60 days.
Our DermaNū Technology® skincare is meticulously tested through clinical's to ensure maximum performance, safety and efficacy.
Our products are loved and recommended by Doctors of Medicine, Doctors of Osteopathic Medicine, Chiropractors, Naturopaths, Plastic Surgeons and more!
Safe For Pregnacy and Children
We only use pure and natural ingredients. Our products are safe for use during pregnancy and for use on children.