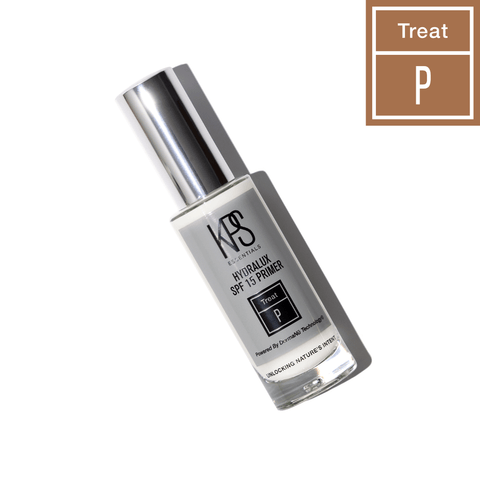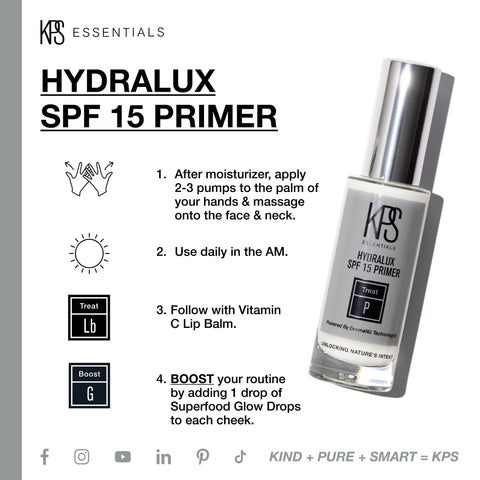 Hydralux SPF 15 Primer
Sun protection moisturizer & primer for all skin types.
Our Hydralux SPF15 Primer creates a smooth and even surface for makeup application and protects the skin against the sun. It helps to improve the longevity of makeup and leave the skin looking refreshed and youthful. This moisturizing primer increases the skin's hydration by nearly double, leaving the skin feeling refreshed, nourished, and youthful.
How To Use
Ingredients
The products and statements made about specific products on this website have not been evaluated by the United States Food and Drug Administration (FDA) and are not intended to diagnose, treat, cure, or prevent disease.
What's inside the Bottle?
These key ingredients are powerful botanicals packed with antioxidants & nutrients to nourish and empower your skin.
Anti-inflammatory, Reflects and Absorbs the UVA & UVB Rays for Protection from Sun-Damage, Antimicrobial, Supports Skin's Natural Ability to Heal
Antioxidant, Anti-inflammatory, Reduce Wrinkles
Antifungal, Uplifting Mood Enhancing Aromatherapy Benefits, Balance Skin, Moisture Retention, Anti-inflammatory, Tighten & Tone Skin
Anti-inflammatory, Fight Free Radicals, Lighten Hyperpigmentation & Dark Spots
Antioxidant Rich, Boost Blood Circulation, Antibacterial
Balance Oil Production, Soothe Inflammation, Antibacterial, Aroma Induces Sense of Calm