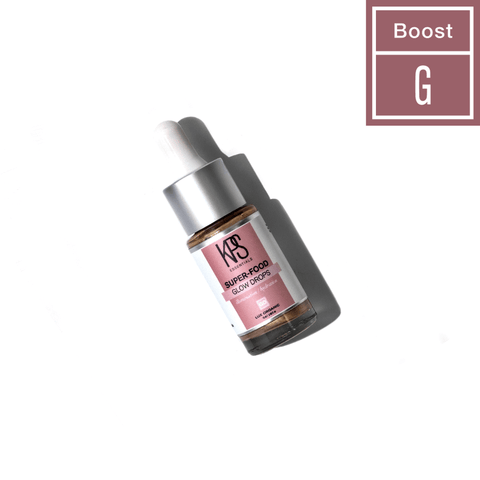 Superfood Glow Drops
Add a healthy glow to your skin.

Safe for: All skin types
Promotes a radiant complexion and brightens the skin 

Enhances skin's elasticity for a firmer, more youthful look

Helps shield the skin against damaging effects from free radicals

You can apply it as a base or combine it with a foundation to enhance results
How To Use
Ingredients
The products and statements made about specific products on this website have not been evaluated by the United States Food and Drug Administration (FDA) and are not intended to diagnose, treat, cure, or prevent disease.
What's In The Bottle?
These key ingredients are powerful botanicals packed with antioxidants & nutrients to nourish and empower your skin.
Boosts Collagen Production, 20+ Amino Acids, Anti-Inflammatory
Antibacterial, Antimicrobial, Anti-inflammatory, Antifungal, Increases Blood Circulation
Reduce Acne, Reduce Wrinkles, Soothe Skin, Balance Skin Tone
Rich in Magnesium, Manganese, Iron, Zinc and Copper which are Essential Nutrients for Healthy Skin
Contains Over 30 Trace Minerals, Contains Essential Amino Acids, Promotes Collagen Production, Powerful Antioxidants
Soothes Skin, Reduce Redness, Anti-inflammatory, Boost Collagen Production, Antifungal, Antibacterial