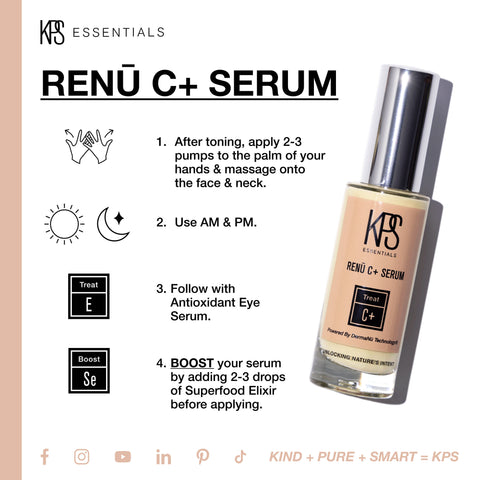 Renū C+ Serum
Turn back the clock with our Time-Defying 10% Vitamin C Serum!
Tired of fine lines and wrinkles stealing your youthful glow? Say goodbye to them with our secret weapon: Renū C+ Serum! ‍♀️ This powerhouse formula is packed with 10% vitamin C, the ultimate superhero ingredient for bright, firm, and youthful-looking skin. ☀️
Here's why Renū C+ Serum is your new must-have:
Blurs fine lines and wrinkles: Say to a smoother, more radiant complexion! ‍♀️
Plumps and firms skin: Give your skin the bounce it deserves! ‍♀️
Brightens and evens skin tone: Goodbye dullness, hello gorgeous glow! ✨
Provides powerful antioxidant protection: Defend your skin from free radicals and environmental damage. ️
DermaNū Technology: Our exclusive technology enhances the effectiveness of our active ingredients.
DermaNu Nutrients: Hydrate, plump, and boost collagen production for a more youthful appearance.
Results that speak volumes:
KPS clinicals show an 83% increase in volume!
Hydration levels skyrocket by 185%!
Elasticity gets a 20% boost!
Skin smoothness increases by a whopping 40%!
Ready to experience the Renū C+ difference?
Order yours today and start loving the skin you're in!
60-Day, Risk-Free Guarantee: At KPS, we're proud to say our products successfully meet the needs of 99.97% of our customers. In the rare event that you're dissatisfied, rest assured – just reach out to us, keep the product as our thank you for giving KPS a try, and we'll handle the rest with no hassle.
Unlock plump, smooth, youthful skin.
How To Use
Ingredients
The products and statements made about specific products on this website have not been evaluated by the United States Food and Drug Administration (FDA) and are not intended to diagnose, treat, cure, or prevent disease.
What's inside the Bottle?
These key ingredients are powerful botanicals packed with antioxidants & nutrients to nourish and empower your skin.
Powerful Antioxidant, Promote Collagen Growth, Fight Free Radicals
Anti-inflammatory, Reduce Redness, Antibacterial, Antiseptic, Reduce Wrinkles, Fade Dark Spots
Antiseptic, Anti-inflammatory, Soothe Skin, Age-Defying Properties, Antifungal, Balance Skin
High in Vitamin A, Promote Collagen Production, Brighten Skin, Anti-inflammatory
Antioxidant Rich, Anti-inflammatory, Antiseptic, Promotes Skin's Ability to Heal, Reduce Wrinkles, Antibacterial, Antifungal
Antioxidant Rich, Boost Blood Circulation, Antibacterial