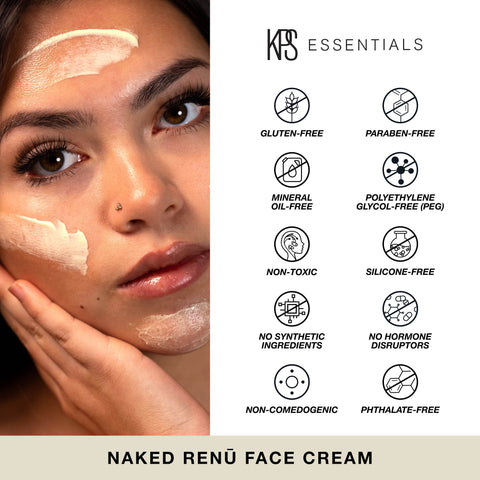 Naked Renū Face Cream
Deeply soothing face cream formulated without essential oils for sensitive skin. 
Drench skin in soothing hydration while replenishing lost-vital nutrients. Clinically proven to hydrate, plump, and smooth skin.
Unlock calm, soft, vibrant skin.
How To Use
Ingredients
The products and statements made about specific products on this website have not been evaluated by the United States Food and Drug Administration (FDA) and are not intended to diagnose, treat, cure, or prevent disease.
What's inside the Bottle?
These key ingredients are powerful botanicals packed with antioxidants & nutrients to nourish and empower your skin.
Brighten Skin, Increase Moisture Retention, Boost Collagen Production, Anti-inflammatory, Antiseptic, Antioxidant Rich
Anti-inflammatory, Unclog & Detoxify Pores, Antioxidant Rich, Noncomedogenic
Reduce Wrinkles, Smooth Skin, Even Skin Tone, Energize Skin Cells, Antioxidant Powerhouse
Antioxidant Rich, Contains Essential Omega Fatty Acids, Anti-inflammatory, Antifungal, Antibacterial, Noncomedogenic
Anti-inflammatory, Antioxidant Rich, Cleanse & Moisturize Skin, Soothe Eczema & Rosacea
Boosts Elasticity, Firm Skin, Age-Defying Properties, Increase Collagen Production