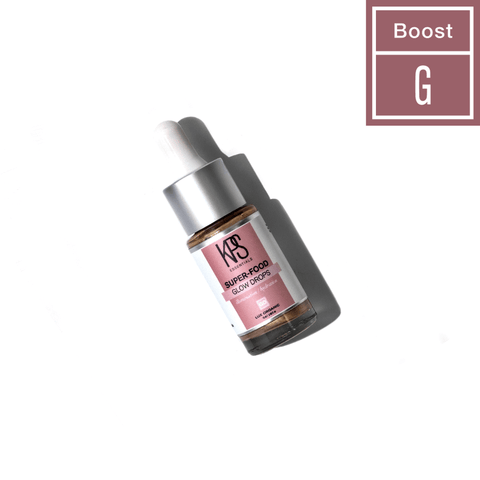 Superfood Glow Drops
Iridescent liquid highlighter for all skin types.
Superfood Glow Drops is a skincare product that combines the nourishing benefits of superfoods with the added shimmer of mica and the antioxidant and anti-inflammatory properties of pearl powder. The result is a mild and easy to use product that can enhance the appearance of the skin, by nourishing and protecting it. It's a great way to add a healthy glow to your skin.
How To Use
Ingredients
The products and statements made about specific products on this website have not been evaluated by the United States Food and Drug Administration (FDA) and are not intended to diagnose, treat, cure, or prevent disease.
We stand behind the efficacy and performance of all our products. Your results are our top priority. If you decide our products are not the right fit for you, we'll refund your purchase within 60 days.
Our high quality pearl powder acts as a topical supplement to boost collagen production.
Our premium food-grade organic essential oils stimulate, soothe and revitalize the skin.

Our products are safe for cancer patients and for people with autoimmune diseases. We also offer essential-oil free options for people with extra sensitive skin.
Safe for Pregnancy & Children
We only use pure and natural ingredients. Our products are safe for use during pregnancy and for use on children.
Our products are loved and recommended by Doctors of Medicine, Doctors of Osteopathic Medicine, Chiropractors, Naturopaths, Plastic Surgeons and more!
What's In The Bottle?
These key ingredients are powerful botanicals packed with antioxidants & nutrients to nourish and empower your skin.
Boosts Collagen Production, 20+ Amino Acids, Anti-Inflammatory
Antibacterial, Antimicrobial, Anti-inflammatory, Antifungal, Increases Blood Circulation
Reduce Acne, Reduce Wrinkles, Soothe Skin, Balance Skin Tone
Rich in Magnesium, Manganese, Iron, Zinc and Copper which are Essential Nutrients for Healthy Skin
Contains Over 30 Trace Minerals, Contains Essential Amino Acids, Promotes Collagen Production, Powerful Antioxidants
Soothes Skin, Reduce Redness, Anti-inflammatory, Boost Collagen Production, Antifungal, Antibacterial